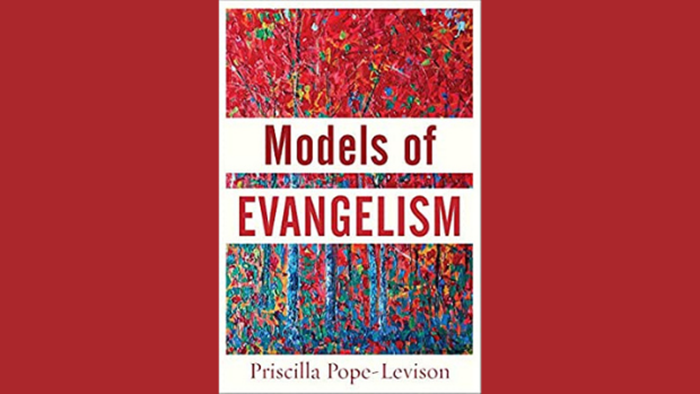 Image: Baker Academic
Being actively engaged in evangelism encourages the evangelist to keep her own faith alive and resilient because she is motivated by a sense of optimism, of leaning into the possibilities that materialize when she engages others with the Christian gospel.

The history of evangelism is a diverse litany. Male and female, rich and poor, itinerant and local, Catholic and Protestant, extreme and natural, public and private. Evangelists come in all shapes and sizes.

Hospitality is deep and deliberate. It is strategic. It is well planned and, just as essential, implemented by hosts whose eyes are trained on strangers, whose posture is outward facing, whose relationships lie in the future and not just the past.

A vital, promising future for evangelism will happen only as individual models combust to create a model uniquely suited to each particular context. Such a combustion is the promise and potential of Models of Evangelism.

Remember that the primary mover in evangelism is the Holy Spirit. While it seems like it is all about me or you as an evangelist, in reality it is the Holy Spirit who prompts, leads, convicts, teaches, and transforms. The primary practice of an evangelist is not, surprisingly enough, to evangelize; rather, it is to pray for openness to the principal evangelist: the Holy Spirit.

What I discovered—and I hope you will, too—are invigorating possibilities offered to Christians willing to visit outside the church walls, to meet people in their neighborhoods and beyond. In an age of anonymity and isolation, this in itself could be an extraordinary achievement.
Those who engage in visitation evangelism, then, are extensions of the church as herald and the church as servant. They have a message of good news, of the day of salvation. They have, too, a sensitivity to human needs—and a keen awareness of what the church, the ekklēsia, can do to welcome people with such needs.

Think as well about the impact this outreach could have on churches, which often exist as islands of homogeneity in seas of diversity. The neighborhood changes, but the church does not. Visitation is an opportunity for the church to engage its neighborhood and for its neighbors to engage the church. Churches can be changed by visitation evangelism—and made to look more like their neighborhood. Heading out to change their world, they can be changed themselves.

The irony—and genius—of liturgical evangelism is that it returns to an era two thousand years ago to discover afresh how to communicate the gospel in our era. It dials back the clock to the context of the early church, where the essentials of Christianity were taught to those living in a culture not yet familiar with this faith. Liturgy was, at its core, evangelism.

You may be surprised to learn [through liturgical evangelism] that you are not only uncovering a great deal about the origins of your faith and church but also discovering how the liturgical life of the early church, which was inherently evangelistic, can revitalize your own church and your own faith through the slow burn of the ancient—and ever contemporary—model known as liturgical evangelism.

The power of liturgy opens up unique possibilities for evangelism week by week and year by year, possibilities rooted in public worship and attuned to the church season. All the threads come together—worship, catechesis, evangelism, fellowship—in this weekly event so that people who participate regularly will be brought to conversion, catechized, and integrated into the body of Christ in all its fullness.

Hope in the advent of the kingdom of God is hope for the growth of God's mission in this world. It is the hope that what Jesus began when he rolled up the scroll, handed it to the attendant, sat down, and said, "Today this scripture has been fulfilled in your hearing," will be fulfilled. So God labors and co-labors—collaborates—still within human history through those who commit to a life aligned with the values of God's kingdom.
This litany of revivalists could be expanded into the thousands, so pervasive have revivals been to American Christianity. At the same time, this list is sufficient to impress upon us the diversity in denomination, gender, race, theology, and region of those who have contributed to the revival model of evangelism.

Keen observers of media raise the point that media of any kind indelibly shape the gospel even while facilitating its communication and circulation. This two-way interaction between media and gospel is not neutral or inconsequential, which leaves the church in the same quagmire as they were in a century ago with the new media of the cinema— how to utilize the prospects of media for evangelism while minimizing its pitfalls and perils

And as new media options become available, evangelists will find ways to share the gospel through them. With each improved media development comes a new opportunity. Media evangelism, particularly through the internet, can connect Christians with those disengaged from the church or completely unaware of Christianity.

These models are not distant islands in a sea of evangelism. They compose, rather, an archipelago.

No matter which model you prefer, no matter which model you choose to implement, no matter whether you pick and choose an element here or there to create your own unique model of evangelism or merge several models together, these five qualities—hospitality, relationship, integrity, message bearing, and church rootedness—are the essential ingredients that gauge your evangelistic effort.

As you become more conscious of these five qualities, as you practice them day by day, you will, perhaps even without realizing it, be preparing for good evangelism. Good evangelists do not sprout overnight; they mature as they cultivate these qualities. This sort of maturation and mellowing is necessary, especially for a practice that receives more than its share of bad press.

Evangelism is not mechanical; evangelism is relational. Strangers to the faith are not targets; they are full-fledged human beings, with whom Christians are called to be in relationship.

Evangelism, then, is not the besetting problem of the church. The church is the besetting problem of the church. But the church is also a point of promise, a touchstone for the unchurched. And the church can become a compass for a disoriented world if it embraces the qualities that exemplify good evangelism—hospitality, relationship, integrity, a message of the good news of the gospel, and church rootedness. This sort of community embodies the good news; it is the good news.
The Exchange is a part of CT's
Blog Forum. Support the work of CT.
Subscribe and get one year free.
The views of the blogger do not necessarily reflect those of Christianity Today.